About the Store
The store provides a significant source of income for Richmond Family Place programs. All monies received in the store contribute to the administrative and program costs of Richmond Family Place. The store accepts credit and debit cards and sells men, women and children's clothing, books, jewelry, linens and small household items.
The volunteer-run thrift store provides clothing, free of charge, to families staying at Nova House transition home and to others needing help through our partner agencies. The rest of the community can purchase items at very low prices. For more information about the Thrift Store, or for inquiries about referring clients, contact the Thrift Store Team Leader, Sara Hii at sara@richmondfamilyplace.ca or phone 604-278-4336
Opening Hours
To ensure the safety of our community, please ensure to wear a mask and wait if the store is at capacity. 
Please Note: The store is run by volunteers, closures may happen as well as bonus hours depending on volunteer capacity.
Store Hours
Monday: 10:00am – 3:30pm (30% off for seniors, $7/bag* kids clothes )
Tuesday: 10:00am – 3:30pm (30% off* shoes, bags, clothing and accessories, $7/bag* kids clothes )
Wednesday: 10:00am – 3:30pm (30% off* men's clothing & accessories, $10/bag* adult clothes, $6/bag* kids clothes)
Thursday: 10:00am – 3:30pm ($10/bags* adult clothes, $7/bag* kids clothes)
Friday: 10:00am – 3:30pm (30% off Housewares, Books & Toys, $7/bag* kids clothes)
Saturday: 10:00am – 3:30pm (30% off* students and members, $7/bag* kids clothes)
*some exclusions apply. See in store for details
Richmond Family Place
8660 Ash Street
Richmond, BC
V6Y 2S3
Phone: (604) 278-4336
Donations
Please call 604-278-4336 for inquiries regarding donations, or for more information. For reasons of liability we unfortunately cannot accept cribs, strollers, high chairs, baby swings, car seats, etc. Items usually accepted for donation at Richmond Family Place are:
Clothing/shoes in new or good condition
NEW underwear/nylons
Small kitchen or household items
Toys in excellent condition
Children's books in excellent condition
DVDs / CDs
Furniture (No beds or large appliances) – please call 604 278 4336 to confirm we have space
Small electrical items if working
Unused hair items/cosmetics
New games/puzzles (or in good condition with no pieces missing)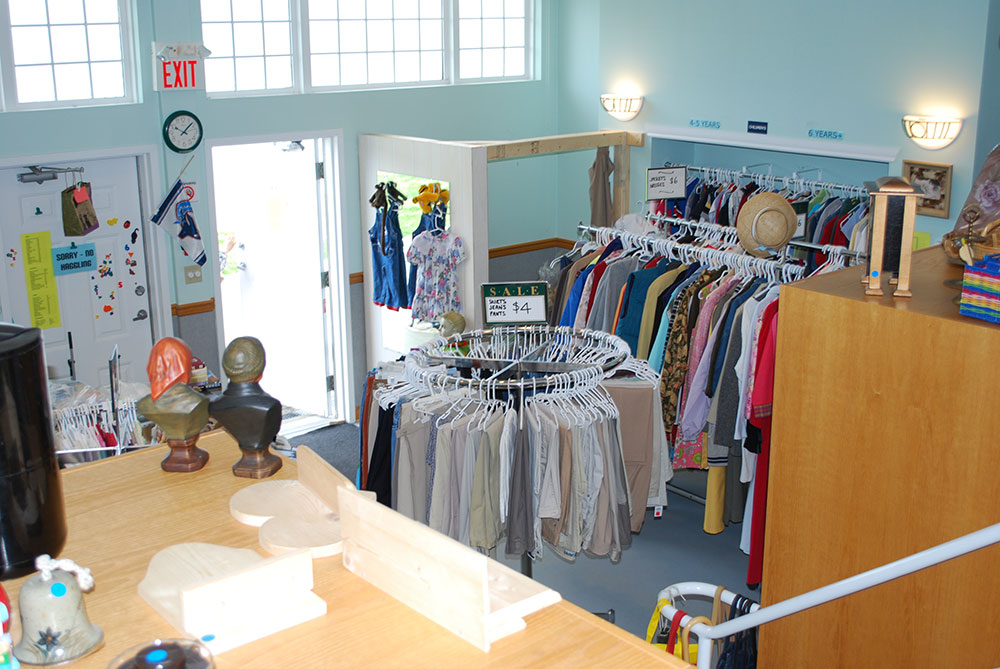 Volunteers Needed!
Volunteers are needed to run the thrift store.
For more information about our volunteer principles and recruitment process, check out our
Volunteering
page.
For more information about the Thrift Store, or for inquiries about referring clients, contact the Thrift Store Team Leader, Sara Hii at sara@richmondfamilyplace.ca or phone 604-278-4336